Preppy Room Ideas for Every Room in Your Home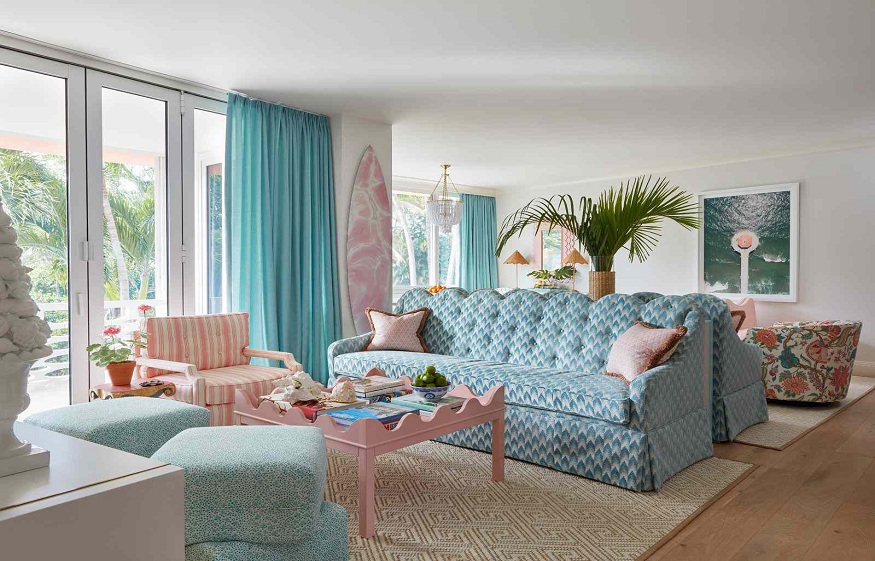 When it comes to creating a stylish and inviting living space, preppy room ideas offer a timeless and vibrant approach to home interior design. Infusing your home with preppy elements can bring a sense of classic sophistication while maintaining a cozy and welcoming atmosphere. Whether you're looking to revamp your bedroom interior design or add preppy touches throughout your home, these home décor ideas will guide you in creating charming spaces.
Preppy Room Ideas to Elevate Your Home Aesthetic
So let's delve into the home decor ideas that you can use to turn every room in your house into a Preppy room –
1.    Living Room Elegance
The living room is where comfort meets style, and preppy designs blend seamlessly with this concept. Incorporate a mix of patterns and textures using classic plaids, stripes, and houndstooth fabrics for throw pillows and upholstery. Opt for a color palette of navy blues, crisp whites, and pops of energetic reds or greens. Dark wood furniture with clean lines adds a touch of sophistication. Complete the look with vintage-inspired decor items like brass accents and framed botanical prints.
2.    Sophisticated Study or Home Office
For a preppy study or home office, focus on creating an atmosphere that encourages productivity and creativity. Choose a classic writing desk in a rich wood finish and pair it with a comfortable yet elegant upholstered chair. Incorporate built-in bookshelves or standalone bookcases for displaying leather-bound books, decorative globes, and art pieces. Keep the color scheme subdued with neutrals like beige and gray, adding occasional bursts of color through artwork and stationery.
3.    Charming Kitchen Vibes
Preppy doesn't have to be limited to living spaces; your kitchen can also benefit from this style. Create a welcoming kitchen by using a combination of white cabinetry and navy blue accents. Add open shelves to display your collection of preppy patterned china or glassware. A butcher block island adds warmth, while subway tiles as a backsplash provide a timeless touch. Incorporate small details like gingham or plaid curtains and classic pendant lighting for that quintessential preppy feel.
4.    Dreamy Bedroom Retreat
When it comes to bedroom interior design, a preppy theme can transform your personal space into a serene retreat. Start with a statement headboard in a timeless pattern such as plaid or stripes. Crisp white bedding with monogrammed throw pillows adds a personalized touch. Consider mixing different shades of a single color to create depth and interest. Classic framed artwork and a cozy reading nook with a comfy armchair complete the preppy bedroom oasis.
5.    Bathroom with a Preppy Twist
Even the bathroom can benefit from a preppy makeover. Keep the color palette light and airy with soft blues and whites. Incorporate patterned wallpaper featuring nautical elements or classic geometric designs. Choose chrome or brass fixtures for an elegant touch. Hang plush monogrammed towels and add wicker storage baskets for a charming yet practical addition. A clawfoot bathtub or a walk-in shower with subway tiles can further enhance the preppy aesthetic.
6.    Dining Room Delight
Create a dining space that exudes preppy sophistication by opting for a large farmhouse-style dining table in a dark wood finish. Mix and match dining chairs with subtle patterns and hues. A statement chandelier above the table can serve as a focal point. Dress the table with crisp white linens and patterned china. Incorporate a gallery wall with a collection of framed botanical prints or vintage maps for a touch of scholarly elegance.
Incorporating preppy elements into your home interior design can result in a harmonious blend of classic elegance and contemporary comfort. From the bedroom to the kitchen, preppy room ideas can be tailored to suit every room in your home. By playing with patterns, colors, and carefully selected decor items, you can create spaces that are not only visually appealing but also reflect your personal style and love for timeless design.