Types of Exterior Wall Paints for Home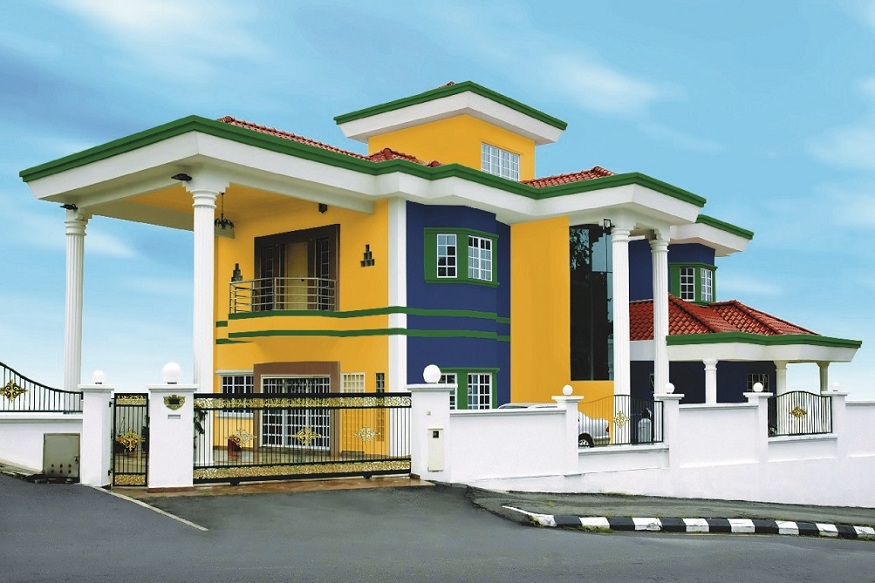 The exterior walls of a house come in direct contact with different environmental conditions due to changing seasons throughout the year. The exterior walls of a house need to be maintained throughout these adverse changing conditions while retaining their original look and wall colour. The exterior wall colours create the first impression of a house due to which they need to stay in pristine condition as time passes.
Along with choosing the desirable shades of colours for your house, it is also essential to select the right types of exterior paints. Selecting the right types of exterior paints can safeguard your walls through different environmental conditions and retain the colour quality seamlessly. This will allow the exterior walls of your house to consistently maintain their look and feel through the passing years.
Here's a look at different types of exterior paints that you can choose for your exterior walls depending upon the external conditions.
Emulsion Paint
Emulsion paint is a water-based paint with several characteristics which makes it a popular choice for applying as an exterior paint. Being a water-based paint, emulsion paint has a less drying period between the coats compared to oil-based paints, and it can be easily applied to the exterior walls. This type of paint can withstand exterior conditions since it exhibits the characteristics of being weather-resistant, alkali-resistant, mould-resistant, and mildew-resistant. Emulsion paint is also a non-toxic choice of paint since it does not emit odour and it is low on VOCs (Volatile Organic Compounds).
Enamel Paint
Enamel paint is a relatively expensive choice of paint which is primarily used in its oil-based form on walls that require protection. Enamel paint is a highly durable choice of paint which exhibits the characteristics of being water-resistant and stain-resistant. This type of paint provides strong adhesion to the walls with a glossy finish that will last for longer periods. Enamel paint is also available as a water-based variant meant for painting metal surfaces.
Cement Paint
Cement paint, also known as distemper paint, is another excellent choice of paint for exterior walls that need protection from fluctuating environmental conditions. Cement paint is one of the oldest and most durable types of paint that has been used for a long time to safeguard the walls of a house. Traditional cement paint is usually available in the form of powder whereas the latest versions of cement paint are readily available in a paint form. Cement paint can be easily applied on rough exterior walls, and it is an economical paint option to cover your walls.
Oil Paint
Oil paint has been a popular choice of paint for a long time due to its durability and versatility in application. While applying paint on the exterior walls, oil paint can be applied as a primer, undercoat, and even a finish coat. Oil paint gives a smooth, rich, and glossy finish on the surface of the application while providing the properties of being water-resistant and durable. However, the use of oil paint is becoming less preferable due to a longer drying period and the requirement of non-humid conditions for the application.
Texture Paint
Texture paint is another brilliant choice to cover the exterior walls of your house since it can perfectly hide cracks and imperfections. Creating exterior wall textures will also provide a unique and uniform look to your exterior walls that will make them stand out from the rest. You can create exterior wall textures by applying texture paint available in liquid form by using a special roller brush or by applying texture paint available in paste form by using a special trowel tool with your preferred choice of texture.
The Asian Paints Safe Painting Service is a one-stop solution for all your painting needs. The Asian Paints Safe Painting Service provides different facilities such as colour consultation, supervised painting, and trained professionals that will provide a clean and precise paint job. Asian Paints is a quality painting company that provides post-painting professional cleaning with deep sanitization and 1-year service product warranty.