Vacuuming Upholstered Furniture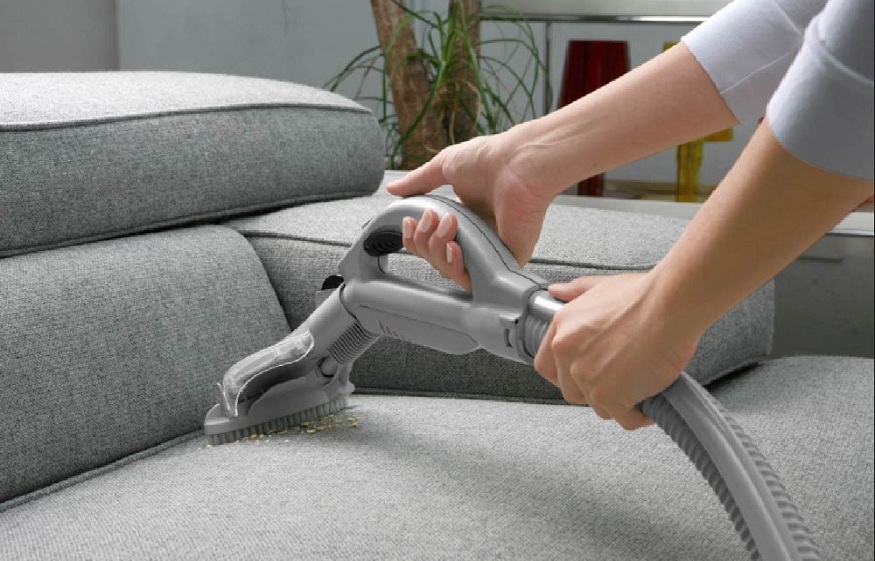 Introduction
Cleaning upholstered furniture is always a hassle since they tend to accumulate dust, dirt, stains, and unpleasant odor with regular use. However, keeping the furniture in your house in a clean and tidy condition can not only maintain its visual appeal but also improve its lifespan. It is also important to follow the correct cleaning procedure, including the vacuuming method to keep furniture in good condition. You should also search "furniture repair near me" on Google to hire professionals to fix any defects with old furniture.
How to vacuum upholstered furniture
The easiest way to keep your upholstered furniture clean is to vacuum it regularly. Generally, vacuuming your upholstered furniture every week is enough to keep it clean and in good condition. For the best results, we recommend you use the upholstery or soft brush attachment when vacuuming upholstered furniture. Also, ensure you vacuum the cushions and all the sides of the furniture as well.
You can start from the left side and slowly move to the right and follow the same tactic starting from the top to bottom using overlapping strokes to extract the dust and dirt from the fabric. To remove the dirt and debris from the crevices and corners, you can utilize the long, thin attachment of the vacuum cleaner.
Now that you have learned how to vacuum your upholstered furniture properly, let's look at cleaning guidelines:
Always check the tag of your upholstery
Upholstered furniture can be made with a variety of materials and even include combinations that require different cleaning guidelines. For instance, some need to be cleaned with water while you need to use solvents to clean other types of upholstery. Thus, it is important to read the tags attached to upholstery since they include letter codes that indicate how to clean the furniture.
Here are the most common letter codes and their meaning:
1. S for solvent –
This means you have to clean the upholstery with a solvent-based solution such as a dry-cleaning solution that doesn't include any water. Generally, natural fibers such as wool, cotton, damask, linen, silk, rayon, denim, and velour need to be cleaned with a solvent solution.
2. W for water –
Furniture that features this letter code tag should be cleaned with a simple soap and water solution. Generally, furniture made with synthetic fabric and materials such as nylon, polyester, olefin, and acetate need to be cleaned with a water-based cleaning solution.
3. SW –
Furniture that features this letter code tag can be cleaned with both solvent-based and water-based cleaning solutions.
4. X –
Furniture that features this letter code tag should not be cleaned with either solvent-based or water-based solutions. You are only supposed to vacuum them and lightly brush them to remove dirt and debris. 
Guidelines for cleaning with water-based solutions
1. Remove stains and dirt by spot cleaning –
Generally, it is much more efficient to spot clean stains and dirt using a commercial cleaning product that is easily available at any store. For fabrics with SW or W code, you should choose a regular water-based cleaner.
To spot clean the stain, apply a little amount of the cleaning solution on a clean cloth and rub or blot it gently on the stained area. Next, clean the spot with some water or a dry cloth.
2. Use a homemade cleaner as an alternative –
If you don't want to purchase any commercial cleaning solution, you can make your own homemade cleaning solution which can be equally effective at removing stains from furniture. You just need to mix ¼ cup of dish washing liquid with 1 cup of water and mix it until it becomes thick and foamy.
Simply apply the foamy part to the stained spot with a soft brush or microfiber cloth and remove it after some time with a spatula or spoon.
3. Use a steam cleaner for deep cleaning 
Removing extremely soiled furniture can be challenging with regular cleaning methods. However, you can rent a steam cleaner from a grocery store to deep clean thoroughly dirty areas more effectively. Using a steam cleaner can seem complicated if you have never used one before but it is not that difficult if you follow the product guidelines.
Normally, you just have to fill the reservoir of the product with the appropriate amount of water and add some cleaning solution if required. Then, you have to work with small, overlapping sections to clean the furniture. You can simply use soap and water solution to clean the dirt and stains. Generally, it is recommended you deep clean your furniture every two to three years.
4. Cleaning with solvents –
If your furniture features an S or SW tag, you have to use a water-free solvent to clean your upholstered furniture. Generally, water-free solvents are easily available at any department store. These include dry cleaning solutions from KleenRite and Chemspec.
You simply have to blot the solvent into the stained area with a clean towel or cloth and then use a soft brush to remove the dirt. Ensure you use solve-based cleaners in a well-ventilated room. Also, never use them near open flames.
5. Drying tips –
It is a good idea to clean your upholstered furniture during a hot, sunny day when it can be dried quickly. You can also set up an oscillating fan to blow fresh air over the wet area of the furniture to accelerate the drying time.
You should always follow the recommended cleaning guidelines listed by the product manufacturer when cleaning upholstered furniture. Otherwise, you can cause unintentional damage to them while cleaning. It is also not a good idea to clean your furniture if you notice any loose or broken parts that need to be fixed.
Conclusion
Generally, it is not that hard to fix minor damage to furniture if you have the proper DIY skills. However, fixing major furniture damage is a different skill and it should be left to the professionals for your safety. You can simply search "furniture repair near me" online to find a list of reputed furniture repair professionals in your locality and hire them to fix old furniture.