What are the benefits of using facade cleaning?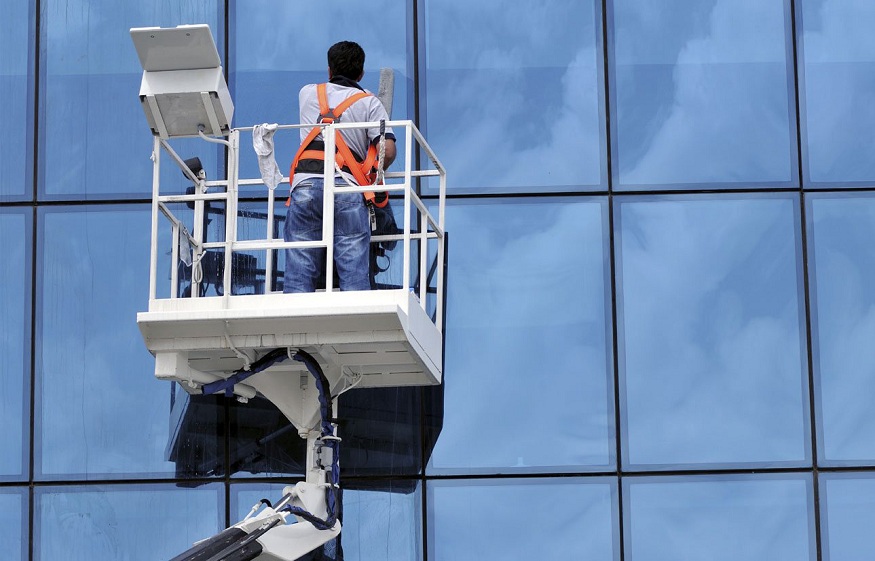 With its breathtaking skyline and mind-blowing architectural marvels, Dubai serves as a symbol of the city's dedication to modernity and creativity. To maintain their radiance and appeal, the famous glass facades that decorate these tall towers need to be meticulously looked after. We dig into the realm of facade cleaning services in this blog post, highlighting the value of facade maintenance in UAEand the excellent services provided in Dubai. Understanding the nuances of facade cleaning services will help you maintain the flawless appearance of your building while assuring safety and lifespan, whether you're a resident, company owner, or property developer.
The UAE's Facade Maintenance Requirements:
Aesthetics: A building's front acts as its public face and makes an impression on onlookers. To keep the building's architectural integrity and retain its stunning aspect, routine facade repair is necessary.
Structural Integrity: Facades are subjected to a variety of environmental variables, including UV radiation, dust, pollution, and extreme weather. These substances have the potential to erode the surface over time and cause structural harm. Maintaining the building's facade is essential for halting this deterioration and maintaining the structure's strength.
Energy Efficiency: By minimizing heat transfer, lessening the need for excessive air conditioning, and reducing energy consumption, well-maintained facades help to increase energy efficiency. Cost savings and a more environmentally friendly approach to building management result from this.
The Function of Facade Cleaning Services:
Specific Knowledge: The highly skilled personnel who work for Dubai's facade cleaning companies have the expertise and abilities required to manage the intricate details of various facade materials and designs. They are aware of the best cleaning practices, safety procedures, and application of specialized tools to get excellent outcomes.
Complete Cleaning Solutions: Facade cleaning services include a variety of services that are tailored to address certain cleaning requirements. High-rise window cleaning, pressure washing, glass polishing, stain treatment, and graffiti removal are a few examples of these. These services guarantee a complete and effective cleaning process by taking care of every area of facade cleaning.
Cutting-Edge Technology: Facade cleaning services use cutting-edge tools and technology to handle the special challenges offered by Dubai's architectural landscape. To ensure safe and effective cleaning at any height or angle, this comprises cradle systems, rope access techniques, aerial lifts, and water-fed pole systems.
Ensuring Compliance and Safety:
Safety Guidelines: Services for cleaning facades follow strict safety laws and directives established by regional authorities. They place a high priority on the safety of their employees, using safety harnesses, and PPE, and putting in place thorough training programmes. This makes sure that the cleaning procedure is carried out safely and carefully.
Environmental Standards Compliance: Reputable facade cleaning services in Dubai provide top priority to environmentally friendly procedures. They use environmentally friendly cleaning products, use less water, and properly dispose of rubbish. These services help create a greener, cleaner urban environment by embracing sustainability.
Increased Longevity: The Power of Professional Partnerships Professional cleaning and care of your building's exterior regularly can considerably increase its longevity. Facade cleaning services aid in preventing costly repairs and replacements by identifying and resolving possible concerns early on, thus saving you time and money.
Well-maintained: facades increase the value of your property and make it more desirable to prospective tenants or buyers. You can make sure your property keeps its appeal and stands out in a crowded real estate market by investing in facade cleaning services.
Peace of Mind: Knowing that the upkeep of your building's exterior is in qualified hands when you entrust your facade cleaning requirements to professionals gives you peace of mind. With the knowledge that your façade will always be in good shape, you can concentrate on other facets of property management.
Personalized Cleaning Methods: The facade cleaning services in Dubai are aware of the distinctive architectural elements and building materials found in each structure. To achieve the finest outcomes without inflicting any harm, they adjust their cleaning strategies accordingly. They have the knowledge to choose the best cleaning procedures and solutions for maximum cleanliness and preservation, whether it be delicate glass panels, intricate metalwork, or stone surfaces.
Programs for regular maintenance: Regular maintenance programs are offered by facade cleaning services to guarantee the continued upkeep and cleanliness of the façade of your building. Scheduled cleaning visits, inspections, and maintenance chores are all part of these programs. By taking a proactive approach, they can spot possible problems early on and take care of them right away, sparing you from future expensive repairs.
Using ropes to gain access: It can be difficult to reach and clean the façade of Dubai's high-rise structures. Advanced rope access techniques, also known as industrial abseiling, are used by facade cleaning services to securely and effectively access any portion of the building exterior. This technique reduces disturbances to nearby residents and minimizes the need for bulky scaffolding.
Using high pressure to wash: Particularly in metropolitan settings, facades can gather pollutants, filth, and dirt over time. Facade cleaning services use high-pressure washing techniques to successfully remove tough stains and deeply entrenched filth. To remove impurities and restore the facade's gloss, this includes employing specialized equipment that sprays water at high pressure to loosen and wash away pollutants.
Glass cleaning and preservation: Many of Dubai's contemporary structures have glass facades as a key design element. Glass restoration and protection services are provided by facade cleaning companies to preserve transparency and clarity. To remove defects and return the glass surface to its flawless state, they use specialized processes including glass polishing and scratch removal. They can also use protective coatings that repel water and debris, lowering the need for frequent cleaning and extending the life of the facade.
Cleaning and restoration in an emergency: Facade cleaning services are aware that unexpected stains, graffiti, or environmental damage might occur. They provide immediate cleaning and restoration services to deal with these problems. They can rapidly restore the facade's appearance and stop additional damage by sending rapid reaction teams and using specialized techniques.
In conclusion, Dubai facade cleaning services are essential to preserving the architectural treasures of the city's pure beauty and structural integrity. These services offer tailored cleaning approaches, routine maintenance programs, and effective solutions thanks to their specialized knowledge, cutting-edge techniques, and dedication to safety and sustainability. By leaving it in the hands of experts, you can make sure that the facade of your building retains its allure and stands the test of time.