Quartz Sink For Your Kitchen: Every Bit Of Information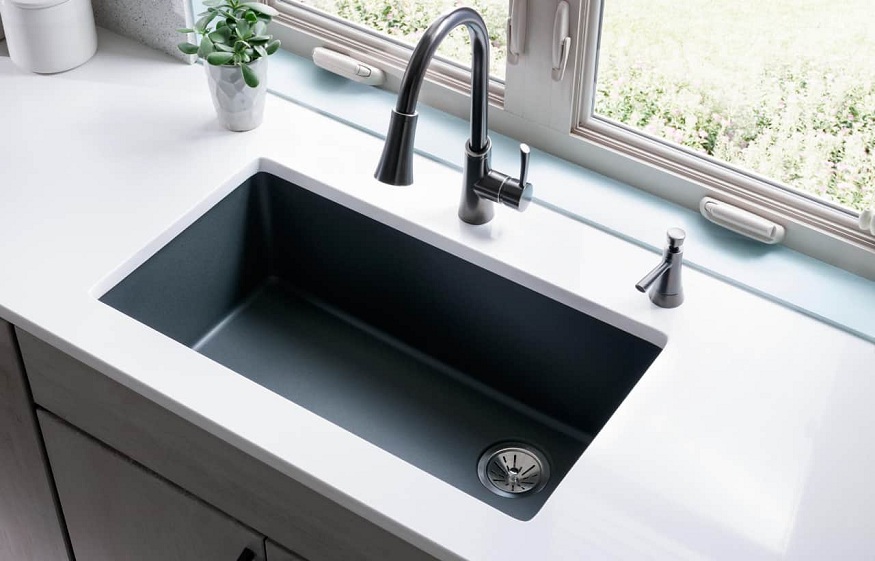 Picking the best sink for your kitchen is not as simple as it may seem. It's no secret that the Farmhouse aesthetic has been on the rise because to the practicality and beauty of quartz kitchen sink designs. Choosing the right material is just as crucial as picking the right design when it comes to your kitchen. This article will explain why quartz sinks are a great choice since they address the top four priorities of today's homeowners: practicality, cost, upkeep, and aesthetics.
Aquartz composite sink is defined.
In contrast to granite composite, which is formed of granite mixed with resin, quartz composite is a man-made substance composed of natural quartz coupled with acrylic resin (usually an 80%/20% ratio). Stone composite sinks have the longevity of stainless steel and the appearance and feel of genuine stone at a fraction of the cost.
How Would You Define a Sink Made Entirely of Quartz?
Some individuals pick an integrated sink built from the same quartz as their worktops to create a unified, uninterrupted appearance in their bathrooms. These sinks are designed to perfectly complement worktops, eliminating the need to choose a new sink each time you replace your counter.
One other perk of integrated sinks is that any dust or dirt swept off the counter top may be easily swept into the sink without getting caught in any crevices or joints.
Quartz Is Used In Much More Than Just Countertops
Quartz is a popular choice for kitchen countertops. It mimics the appearance of more expensive real stones like granite without requiring as much care. Being fashioned from one of the planet's hardest rocks makes it a sensible option. However, it's not entirely natural and is instead a man-made creation.
Equally true with the quartz sink, which is a composite material constructed of quartz crystals and acrylic resin. As a consequence, you can be certain that this sink can withstand the daily use it will get in your home. It makes perfect sense to use it in the sink if it is suitable for the countertop.
The Benefits of Quartz Sinks for Kitchens:
There are a few things you should keep in mind while searching for the ideal sink. It will depend on factors including size, structure, and aesthetic preference. It's convenient to have more space while washing large cookware, so a sink that's deeper than average might be an excellent choice. However, do you think it will fit where you want it to? If that kind of separation is really helpful to you, you may wish to use two bowls instead of one.
If you're remodelling your kitchen, what kind of atmosphere are you going for? How much money do you want to spend, and do you want to make a big splash? All of these factors should be considered when choosing a sink or discussing possible sinks with a design professional.
Extraordinary durability
Sinks made with quartz are built to last. Quartz can withstand high temperatures, is scratch- and stain-proof, and will retain its pristine appearance for decades.
Given their superior efficiency, manufacturers like to back their sinks up with longer guarantees. The brand-new quartz sinks, for instance, have a guarantee covering any flaws in the material and workmanship for a full twenty years. The quality of German manufacturing is likewise difficult to match.
Hygienic
Quartz is resistant to germs and odours because it is nonporous and has a smooth surface. The best kitchen sinks are made from this material.
Fashionable layout
Quartz sinks' sleek appearance is a major selling point. Because of their sleek appearance, these sinks may be the spotlight of any kitchen.
Soundproofing
It's a huge selling factor for women! As an added bonus, these sinks are far less noisy than their stainless-steel counterparts, making them much more convenient to maintain. The sound of plates clattering has subsided, and water can be heard running from taps and faucets.
Colour options
In keeping with the preceding point, another advantage of quartz sink is that you may choose the finish to complement your room, since they come in both black (onyx) and white.
The Rest of the Story on Quartz Sinks
Quartz is very long-lasting. It is unaffected by moisture, oil, or grease, and can sustain high heat without warping. Quartz sinks are very hard to shatter since they are crafted from a composite material consisting of quartz and acrylic (often 80% quartz and 20% acrylic).
The ideal complement to your cooking space
There isn't a single kitchen design that quartz sink wouldn't complement. It is equally at home in a classic or modern kitchen, and as eclecticism is the lifeblood of any good design scheme, it may be used in any kitchen you can imagine. Consider installing the smaller sink designed for an island into your design. Quartz is an attractive and adaptable option.
Metals are a great addition to any kitchen, and should be used liberally in any design. These days, many people choose copper because of the warmer, more welcoming vibe it exudes. Although copper sinks may give a room a more vintage look and feel, they are costlier to acquire and maintain. The sink is large and heavy, so you'll want to be sure it will fit in your cabinets before you buy it.
Stainless steel is also a low-maintenance sink option that is durable and will fit into a modern design. However, you'll have limited options for finishes and colour. Whether it's glossy, sheen, or nickel, the colour will always be silver.
Conclusion:
Quantra Quartz sinks are fairly low-maintenance. Clean it regularly with a mild detergent, and deep-clean as necessary with a nylon brush and a cleaner like Bar Keeper's Friend.
Rinse the sink after every use and wipe dry. Do not use abrasive cleaners or sponges or harsh cleaning agents like ammonia.