Redoing your room on a low budget: 10 tips and solutions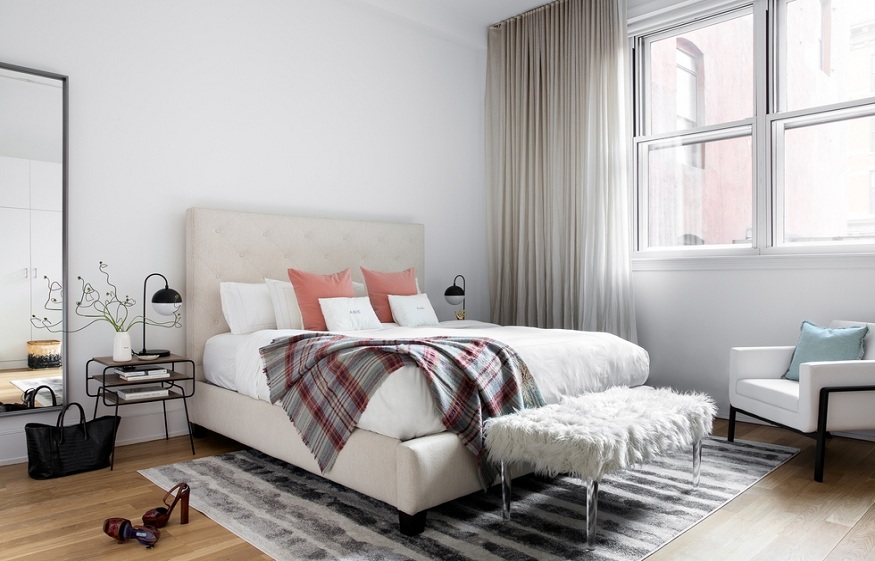 Your bedroom should be a place to spend time and be a place to relax. With that in mind, here are tips that will help you rethink the space without a major investment of time or money.
1 – Review the layout of your furniture
Changing the layout of your room is undoubtedly the most profitable solution since it is free! With a little time and energy, you can give your space a whole new look just by changing the arrangement of your furniture. Simply changing the direction of your bed can make all the difference and allow you to give your bedroom a new decorating direction. By changing the locations, also think about sorting, remove the parts that you think are unnecessary. Getting rid of unwanted furniture can help you open up the space and make it more airy.
2 – Declutter as much as possible
Start on one side of the room. Empty a first drawer or shelf and place its contents on the floor. One at a time. Clean the drawer or shelf. Sort the content into two piles: 1) what you regularly use and like, and 2) what you are going to get rid of. Take it one item at a time and make an instant decision – when was the last time you used it? If you haven't used it for a few months (6 months at the most), get rid of it. Once you've sorted the pile, put the things you love back and put them away, neat. Put the other battery in a box to be given away or recycled or given to friends and family. Repeat for the entire room. After this step, you will already have the impression of having redone your room!
3 – Change your bed linen
Since the bed is the focal point of the bedroom, changing the pillow covers and / or your duvet cover can be one of the most effective small changes you can make. Choosing bed linen in a completely different color than the one you currently have can have a huge impact. The bed linen in shades of white still works. It works in any season and can be easily layered with a cozy woolen blanket in the winter and lighter pillows in the summer. A little daring: don't be afraid to try new colors and patterns!
4 – Personalize your headboard
It is important that your bedroom is a comfortable and relaxing space, not only in terms of layout and practicality, but also from an aesthetic point of view. There is no need for a lot of furniture and accessories. In fact, the less the better. You can always personalize your room with things like a DIY or store-bought headboard. Many websites share great ideas.
5 – optimize the lighting
Lighting is a key element in any room, but it's especially important when thinking about creating a welcoming atmosphere in a bedroom. For an impactful change, consider your bedside lamps. The easiest solution may be to simply replace your lamp shades. Or you can completely replace your bedside lamps with elegant wall lights.
6 – Review the painting
Painting is an important and inexpensive thing to consider in giving your space a new look. Light gray or pale blue are always great options to give your room a feeling of calm. You can also use paint to spruce up old furniture. Consider sanding down a tired dresser or nightstand and painting it a bright color. What to make new with the old. And enough to go to bed and wake up in a good mood!
7 – think about your soil
Just like changing your duvet cover, adding or changing a rug can have a big impact.
Who doesn't want to wake up with something soft under their feet? Rugs are a fantastic way to add consistency to a room. Don't be afraid to layer a few of them to give the space a relaxed feel.
8 – don't neglect storage
The bedroom should be a restful place, so you absolutely need adequate storage space. To keep clutter to a minimum, consider closet organizers, storage bins, and nesting baskets. This will allow you to avoid piles of various and varied items in your room.
9 – devote yourself to your walls
Don't forget your walls! Painting, wallpaper, or hanging artwork on your walls can have a major – and instant – impact on the look and feel of your room. Art should reflect your personal interests and passions. What if you chose a section of wall as your gallery? This will allow you to add your finds permanently. Frame cards, print black and white photos.
10 – get professional help
If you don't know how to design your bedroom and where to find affordable furniture and decor, decorating can easily get expensive! When you work with a designer decorator, of course you will have to pay enough to honor his service, but he or she will create a beautiful room for you with the budget that you have defined for him. In addition, interior designers have extensive knowledge of suppliers, they know where to find items at affordable prices.