Transform Your Garage into a Versatile Space with Garage Door Screens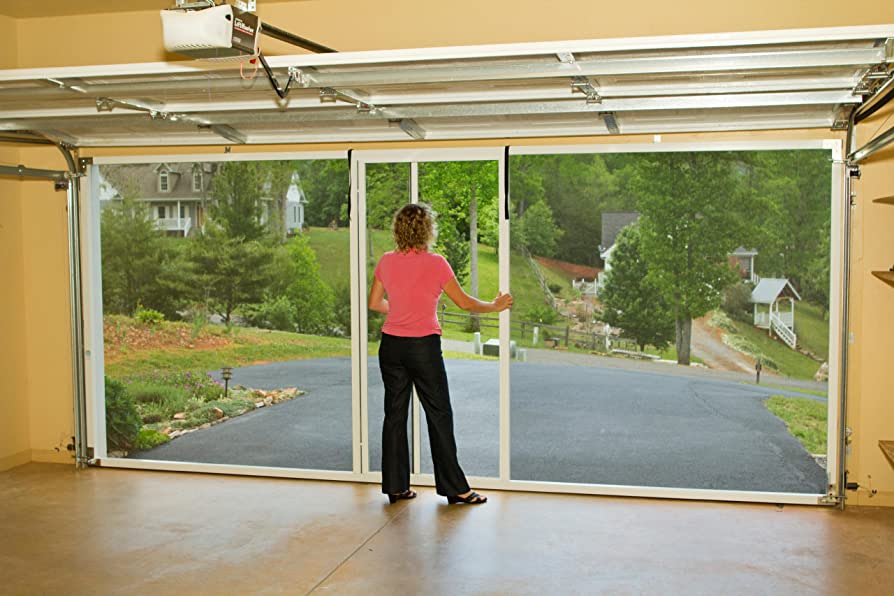 Garage screen doors can uniquely convert an underutilized space into a more functional room. Adding a screen to your garage can turn it into a fantastic man cave, providing a perfect place for relaxation and leisure activities. Adding a garage door screen makes a garage more than a place to park a car.
Garage door screens provide a way to let in fresh air while keeping out bugs, dust, and debris. A garage door screen expands the usability of a garage and makes it a more practical and enjoyable space. It becomes a multi-functional space that can be used for various activities like working out, hobbies, and even entertainment.
Types of garage door screen you can add up for the transformation.
Garage screens come in various options, including hook and loop, Velcro mounted with zippered openings, panel and track systems (sliders), and motorized screens that go up and down with a button. Each type of screen offers its unique benefits and features. Homeowners can select the type that suits their needs and preferences. No matter the type, garage screens provide an efficient solution to keep bugs, debris, and extreme temperatures out while allowing fresh air to circulate through the garage space.
Sliding screen doors are easy to use, requiring a simple slide to open and close. They can be upgraded to a remote control option for added convenience.
Retractable garage door screens are a convenient way to add a screen to your garage. They sit at the header of the garage door and are controlled by a remote. They can be closed or opened when needed. These screens come in various colors to match your style.
A roll-up screen door is a garage door attached to the header and door jambs using hooks. It features a zipper that can be used when entering or exiting the garage. The screen can be rolled up to conserve space when it is not in use. This door type is popular for households that enjoy letting in natural light and fresh air while keeping insects and pests out.
Lifestyle Screens have revolutionized the way homeowners use their garages. With a fully retractable design that works seamlessly with your existing garage door, these screens are a game-changer. They feature an innovative, fully retractable passage door that allows easy entry and exit without retracting the entire system. Plus, they are fully spring-loaded, making them effortless to use. Whether you want to transform your garage into a home gym, workspace, or just a place to hang out with friends, Lifestyle Screens make it easy to enjoy your space in a whole new way.
Benefits of having a garage door screen
Transforming your garage with a screen is a practical solution to create additional functional space in your home without requiring extensive renovations. It's like adding an extra room without the hassle of a time-consuming construction process. With the garage door closed, the area can be utilized as a workspace, a home gym, or an entertainment center. Screens protect from insects, sunlight, and debris. If you require privacy or fume protection, there are different screen options to suit your needs. Overall, a screen can expand your living space and improve your quality of life.
Garage screen doors can convert an underutilized area into a functional room in your house. Adding a screen can transform your garage into an ideal man cave. A garage screen door is perfect for activities like projects, socializing, or relaxation. It also helps shield against unwanted elements like pollen, leaves, and debris while allowing a cool breeze to circulate through the garage. Furthermore, it keeps pesky insects away and improves the garage's ventilation, creating a comfortable environment to work or unwind.
Conclusion
Garage door screens are versatile and can fit various door sizes. They can be easily moved into place when the garage door is open, allowing fresh air to flow while keeping insects and debris out. There are various garage door screens to choose from, providing options catering to different needs and preferences. Modern garages serve multiple purposes beyond just parking cars. They are transformed into hobby shops, sports centers, man caves, or additional living spaces for in-laws and extended family members. Homeowners are increasingly finding ways to utilize the available space in their garages to meet their various lifestyle needs. Whether to pursue their hobbies or provide more living spaces, garages are becoming integral to homes beyond their traditional use.